Faculty of Rehabilitation Sciences

Department of Rehabilitation Sciences
Becoming therapists who can respond to the changing needs of the time and who possess a rich sense of humanity, thoughtfulness, deep knowledge and high skill.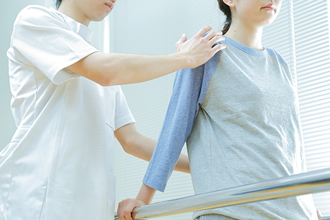 What you will study in the Department of Rehabilitation Sciences of the Faculty of Rehabilitation Sciences
Becoming professionals with thoughtfulness and imaginative ideas capable of taking proactive action for problem solving
Japan today is moving to structure collaboration and integration of the fields of healthcare, medicine and welfare. As one of these fields for collaboration, the department focuses on the support of aged and challenged individuals in the community in cooperation with other departments.
What we hope to gain through educational research in this field is education to develop a rich sense of humanity for physical and occupational therapists. Students joining the department will find it important to have compassion for others, an inquiring mind, and awareness of issues in rehabilitation. We look forward to seeing students with a love for people, who have compassion and imaginative ideas, and who always have smiles on their faces.
Points of Study
1

Human understanding

Students study human beings from diverse angles, such as biological and cultural viewpoints, deepen understanding and widen perspective.

2

Expert knowledge and skills

Students acquire a high level of knowledge and skills as rehabilitation specialists.

3

Cooperation and community-based rehabilitation

Students Cooperate with other specialists in acquiring the capability to support community-based rehabilitation.

4

Research

Students develop scientific thinking and other abilities with an attitude of facing new problems that have arisen. One example of future paths for students graduating from this department includes moving on to our graduate school to continue research.
Features of the Department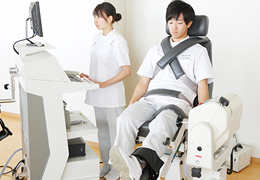 Learning four pillars of this department develops physical and occupational therapists that are in demand in society
The department has established four pillars: "Human understanding" refers to our goal of fostering students with a broad perspective that allows them to fully understand humans in a wide range of terms, from the biological to the cultural aspects. "Expert knowledge and skills" refer to our goal of providing students with the advanced knowledge and skills that will make them experts in the field of rehabilitation. "Cooperation and community-based rehabilitation" refer to our goal of helping students develop their ability to work in cooperation with other professionals and contribute to community-based rehabilitation. "Research" refers to our goal of providing students with the ability to face and respond to new issues in a scientific manner. Studies based on these four pillars allow us to bring out the physical and occupational therapists that society needs.
First Year

Students take lectures on Introductory Rehabilitation and other basic subjects in this specialized field, including Anatomy and Physiology to gain basic knowledge related to "medicine."

Second Year

In addition to basic subjects in medicine, such as internal medicine, orthopedic and psychiatry, students also engage in specialized subjects, such as clinical evaluations and practical exercises as specified by each major to help them deepen knowledge in their specialized fields.

Third Year

The majority of subjects taken in both majors are professional level, including Therapeutics geared for each major. Students experience on-site training for clinical evaluation on patients who are assigned to them to accumulate their level of experience.

Fourth Year

The curriculum for this final year is focused mainly on on-site clinical training to further improve practical skills. Students study therapeutic technology that can be used in clinical settings in Clinical Training I and II.
Physical Therapy Major

The aim of the course is to contribute to the maintenance and improvement of human health by utilizing empirical research and physical therapy skills, and to establish a methodology for the prevention and treatment of diseases and disorders. Students graduating from this course are compassionate individuals who have the capacity to show consideration for the lifestyles and culture of their patients. Our physical therapists are able to respond to the diverse needs of patients, community and society through cooperation with professionals from other fields.

Occupational Therapy Major

The goal of this course is to explore the effectiveness of the "occupation" as a means of assisting physically or mentally disabled people in achieving a fulfilling and satisfied life, and to establish an effective approach to occupational therapy in both medical and social terms. Our goal is to produce occupational therapists capable of responding to the diverse needs of communities and society as a whole in cooperation with professionals from related fields.