Faculty of Children's Studies

Department of Psychological Counseling
Students study the environment surrounding children and learn extensively and in depth about the "mind" of man with the aim to create a brighter tomorrow for today's children.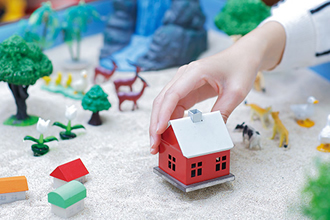 What you will study in the Department of Psychological Counseling of the Faculty of Children's Studies
We foster human resources that understand the wonders of the "mind" of man and develop into individuals useful in society.
The "mind" of man is mysterious. There are so many serious problems and difficulties existing in the environment surrounding today's children and childrearing parents. What's sought in modern society is specialists in child psychology and education.
The department responds to the needs of the regional community and provides education that enables students to learn the wonders of the human "mind" from the aspects of psychology and education. We foster students who understand the feelings of others, who have "the ability to respond to needs in a heartwarming manner," and who contribute to the regional community
Points of Study
1

Inter-connected department course

An inter-connected course with the Department of Children's Studies enables the fostering of individuals with an understanding of other related professions in childcare support, individuals capable of structuring harmonious cooperative relationships with school social workers.

2

Focus on volunteering and experience-based learning

Off-campus clinical practice helps students to deepen their understanding of children's health and mental state. We encourage students to learn to think for themselves about the kind of support required by and best suited to the targeted child and have motivation in working with children.

3

Small classes with outstanding practical training

From entry into the department to graduation, students study in small seminar-type classes and individual supervision is provided by a teacher assigned to each student to foster autonomous learning.

4

Foster human resources with broad-ranging perspectives

The department aims to foster individuals with diverse clinical psychological perspectives. Students learn not only to provide direct support to children, but also gain understanding of people surrounding children, such as family, caretakers, schools, teachers and local community so that they develop into professionals who can also provide indirect support, as needed, to adults involved in childcare.
Features of the Department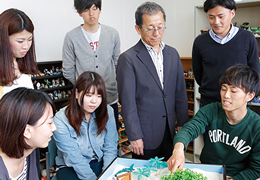 Deployment of educational methods focusing on active learning
The curriculum incorporates fundamental and applied psychology to allow systematic learning of specialized areas in clinical psychology subjects. Other various and specialized subjects include those that enhance understanding of children with disabilities.
Small seminars that include practical training and psychological practice exercises put a focus on active learning (an educational process in which communication is facilitated between students and teachers, and the two parties stimulate one another and grow together intellectually, and students seek opportunities to autonomously discover issues to the subject).
First Year

Students acquire a basic understanding and fundamental knowledge on minds of children.

Second Year

Students acquire specialized knowledge required for an understanding of children's minds and basic skills required in clinical training.

Third Year

Students delve deeply into specialized knowledge about children in need of psychological assistance, and support methods based on clinical psychology for a deeper understanding of children's minds.

Fourth Year

To complete the four years of study, students work on graduation research. Off-campus training is available according to career path and licenses that students desire to obtain. Students autonomously grasp their level of learning and issues that must be addressed.