Faculty of Health and Nutrition Sciences

Department of Health and Nutrition Sciences
Bringing out smiling faces through food
Becoming an expert member of a medical team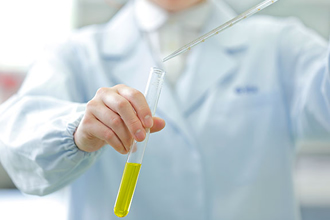 What you will study in the Department of Health and Nutrition Sciences of the Faculty of Health and Social Nutrition Sciences
The Department fosters individuals with advanced knowledge and skills as well as a rich sense of humanity responding to the needs of the age
The environment surrounding food is changing daily. In the midst of such an age, the Department of Health and Nutrition Sciences focuses on food from the perspective of nutrition sciences. The department provides education and conducts research in the fields of health, medicine and welfare to develop nationally registered dietitians and other professionals in the field of food science. In order to send out registered dietitians ready to join the workforce, the department offers a curriculum fully focused on the practical application of knowledge. Students experience community-based practical training to widen their perception and acquire a deep sense of humanity.
The Department aims to develop outstanding experts in "food" science capable of adapting to the changing age though effective classes programmed with a unique educational system to help students acquire highly professional knowledge.
Points of Study
1

High percentage of students obtaining certifications

The 4-year phased program is created to prepare students for the national exams, and we are proud that a high percentage of our students pass the national exam for certification as nationally registered dietitians.

2

Enhanced practical skills

Students polish their practical skills to be registered dietitians through practical training programmed to best suit the level of study.

3

Maturing minds for welfare

Students foster their minds for welfare inheriting the traditions of Nagahara Academy.

4

Close contact with the community and a global perspective

The school makes the most of the merit of being the only school in Saga offering education to prepare for the national registered dietitian exam and programs closely tied to the community. Providing education to foster a wide global perspective develops students' ability to see the community with objective eyes.

5

Reassuring support system

A supervising teacher is assigned to each student to provide personal support throughout the 4 years.
Features of the Department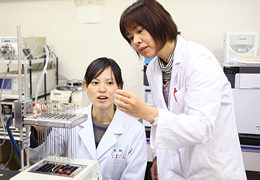 Students acquire professional skills and knowledge that prepare them to become registered dietitians.
The Department of Health and Nutrition Sciences has a systematic curriculum that enables students to learn in stages, from the basics to advanced application on a step-by-step program.
First Year

Students take basic subjects, including Anatomical Physiology, Introductory Nutrition Science and Cookery, to heighten their interest in "food."

Second Year

Students take more practical subjects that include lectures, experiments and practical training, including Theory of Epidemics, Nutritional Science by Life Stage, and Introduction to Dietary Reference Intake and Practical Dietary Planning.

Third Year

Students move on to more specialized studies, including Nutrition and Internal Medicine, and Introduction to Clinical Nutrition Science. Furthermore, students are given opportunity to engage in practical training at actual worksites to heighten their experience level.

Fourth Year

Students further their studies by combining the knowledge they have acquired through on-site training, comprehensive nutrition practice, their graduation research project and exercises, and move toward becoming experts in the field of nutrition.