Department of Local Life Support Sciences

Course of Life Support: Multi-culturalism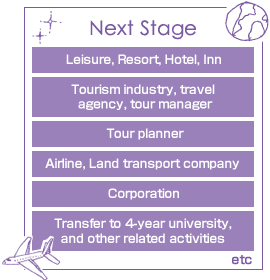 Becoming a life support "concierge" with an international viewpoint who can contribute to invigorating local areas
We teach students to become "concierges" who can learn about various local resources such as Saga's culture, customs and tourism, which they can take advantage of to propose rich and varying lifestyles to many people. Our students also learn professional knowledge related to food and nursing care to support health, which enables comprehensive support for the quality and diversity of the lives of others.
Features of Course of Life Support: Multi-culturalism
1

Overseas study program and interaction with overseas students to acquire practical language skills

Studying with overseas students and participating in overseas study and global experiences enable students to come into contact with various lifestyles and cultures. This helps students to have an international viewpoint. After achieving basic skill in English, it is also possible to learn Asian languages.

2

Developing students who provide hospitality with knowledge of food and welfare

The major feature of this course is that students study not only international cultures but also take classes in a specialized curriculum related to food and welfare. Students acquire specialized knowledge and skills needed to support others in a variety of ways with a sense of Japanese "omotenashi" hospitality.

3

Studying local features and Japanese culture to contribute to invigorating the community

There are classes for imparting an understanding of Japanese culture. Unique classes such as "Study of Saga" encourage students to learn the history and tradition of local areas. With the goal of invigorating the local communities, students learn about fascinating points of interest and how to tell others about them.

4

Learning practical knowledge and skills required in the tourism and travel industry

The course teaches students the knowledge and skills that hotel and lodging companies require for their tour managers, conductors and planners, and for assistant-level positions in transportation and courier companies.
TOPICS: Course of Life Support: Multi-culturalism
Many work-experience based programs are planned

Students acquire the ability to support the welfare of others first by studying the specialized subjects needed to develop an international viewpoint, then by taking nutrition and welfare courses. Through work-experience based learning, our students acquire the ability to contribute to invigorating local communities.

Overseas Food Culture Program

Students can choose to visit overseas school lunch facilities during the spring and summer breaks. Seeing the food culture and nutritional conditions of other countries helps them to develop an international viewpoint.

Travel business

With the goal of obtaining certification as a travel manager, students accompany private travel agency tour conductors to acquire the practical skills they will need.

Relaxation

Students study pressure massage for palms and foot soles, pressure therapy, and other relaxation methods as well as using essential oils and incense. Students experience these to better use them in nursing and in medical care.