Department of Local Life Support Sciences

Course of Life Support: Food
Becoming professionals who can utilize their basic knowledge of food and nutrition to nurture mind and body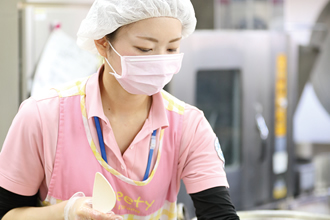 Features of Course of Life Support: Food
1

Through fulfilling experiments and practical training, students acquire skills useful in a variety of occupations

The feature of this department's curriculum is the many hours allotted to practical training and experimenting. This enables students to become nutritionists with not only knowledge but also the skills that will allow them to succeed in a variety of food-related occupations. The course graduates nutritionists who can cook.

2

Promotes study in and work for the community

Students enthusiastically foster planning and communication skills in the community by interacting with the local people. To contribute to our local community, the university manages Shunsai Café and plans parent-child cooking classes.

3

It is possible to get double licensing as a registered nutritionist and a cook.

At night, students can attend the school annexed to the university to acquire both registered nutritionist and cook licenses. The double-license program offers a unit transfer system as well as tuition reduction and exemption systems for an economical, time-saving and efficient way to acquire two licenses.

4

Confectionery skills are another asset!

In addition to nutritionist and cooking classes, students may attend confectionery lecture and practical training classes. This knowledge is useful for making snacks in many food-related occupations.
TOPICS: Course of Life Support: Food
Shunsai Café is managed by our soon-to-be nutritionist students

Shunsai Café is managed by students in our course. They follow the basic concept of "local production for local consumption." In an available shop in Kohoku-machi, a town with which the university has a partnership, one-plate lunches made with local seasonal vegetables are served. Students create the menus and manage the operation and all the related tasks. It is a wonderful opportunity for students to use their youthful power in invigorating and contributing to the community.

The Shokuiku Festa (Food Education Festival) !
The university cooperates with the community to promote and disseminate food education.

Exhibition booths are set up by students studying to be nutritionists and research labs under many different food education themes. Local residents and high school students are invited to presentations of educational research. The simulated food education experience corner, in particular, attracted many visitors.
Skills acquired in the 2-year program
High skill that prepares students for the workforce

Students acquire high-level skills through many experiments and practical training classes that enable them to become efficient workers immediately upon graduation.

Practical skills useful at the worksite

Through experience-based curriculum, students acquire the mind to "think, act for themselves and achieve something with others," a quality useful at the worksite.

Creativity for beautiful dishes

Students acquire creative skills that allow them to serve beautifully decorated dishes and develop a sense of hospitality through school events.