2021年度(後期受入)&2022年度(前期受入)の外国人研究生を募集します。関連書類は下記のリンクよりダウンロードできます。
We'd like to make an announcement about recruiting foresign research students accepting from fall semester 2021 & spring semester 2022.
Please access the link below and download the files.
<DOWNLOAD FILES>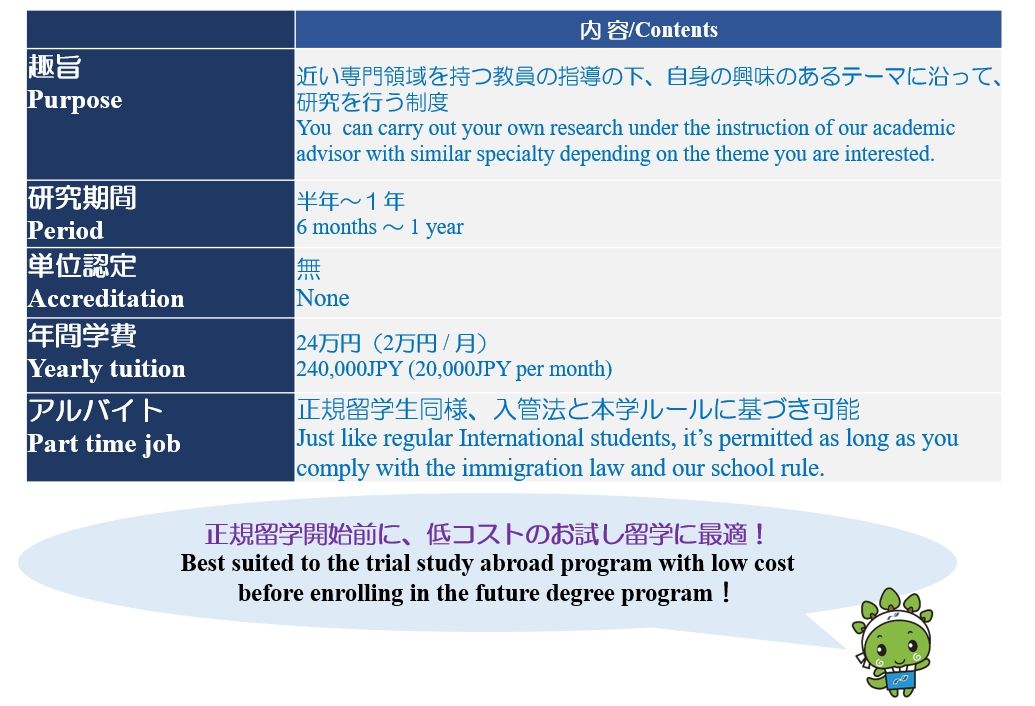 ある程度日本語力のある留学生の募集に特化しているため、日本語版のみの書類しかありません。予め御了承下さい。
Please note that only the Japanese versions are available since we are mainly targeting those who have certain levels of Japanese proficiency.
もし申請者が本学の海外協定校出身である場合、入学料を50%減免しています(減免後の金額を表示しています)。
If an applicant is from our partner universities abroad, we can exempt the admission fee by 50%.
(The prices shown in the guideline are the deducted ones)
研究修了後、正規課程に進学する場合、日本語力に応じた減免制度も利用できます。
If you decide to apply for the degree course after the research period, the tuition waiver program is available depending on your Japanese proficiency level.
※詳細は下記URLを参照下さい。
*For more information, you can refer to the following URL.
http://www.nisikyu-u.ac.jp/en/international/expenses.html
正規課程に申し込みをする前に、まずは研究生をしてみることをお勧めします。そうすることで、更に高みの教育のための大きな投資をする前に、本学やここの生活が本当に合っているかどうかを確かめることができます。
We highly recommend you to be a part of this program before you apply for our degree program. By doing this, you can get to know whether our school and the life here really fits you before making a large investment for the further education.
関連書類を準備する際は下記の事項に御留意下さい。
Please note the following statements when preparing the relevant documents.
(1)
申請書は必ず手書きにすること
(2)
学生の日本語力を確かめるために、申請書は日本語のみで作成下さい。
(3)証明書については日本語版か英語版のみを受け付けます。その他の言語については、日本語か英語の翻訳を添付すれば可能です。
(4)指導を受けようとする指導教員の承認印を事前に受けること。連絡方法は下記参照。
(1)Application form MUST be handwritten.
(2)Application form MUST be made only in Japanese so that we can also make sure the applicant's Japanese proficiency level.
(3)We only accept certificates made in either Japanese or English. For other languages, it is acceptable only if you attach the Japanese or English translation.
(4)You must get approval from your desired academic advisor beforehand. Please refer to the following process for how to get connected.
出願期間:2021年6月28日(月)~7月9日(金)
APPLICATION PERIOD: From Mon June 28th ~ Fri July 9th, 2021
<希望する指導教員との連絡方法/How to contact with your desired academic advisor >
下記の教員リストを確認し、リストから希望する指導教員を一人選んで下さい。
Please check our faculty information below and choose the teacher you desire to study with from the list
http://er.nisikyu-u.ac.jp/DYU0220
選択後に、
6月5日までに
研究生入学願書・履歴書と研究計画書と併せて教員名を文末の国際交流センター事務局までお伝え下さい。
After choosing the academic advisor, let us know the name of the teacher along with the completed motivation letter, resume and research plan
BY JUNE 5th
to the contact email address below.
事務局の方で該当教員に指導教員として担当してもらえるかの確認をします。もし問題なければ、正式な研究生の申し込みを行って下さい。
The admin staff will confirm with the teacher if he or she is available to be your academic advisor. If you get the positive reply, then you are ready to submit the documents officially.
【注 意】
①今後の新型コロナウイルスの感染状況により、研究生の受入中止もあり得ますので、予めご了承下さい。
②指導教員の承認をもらえたとしても、研究生として合格できるとは限りません。
【NOTE】
①Due to the future infectious situation resulting from the new corona virus, there is a chance that we might cancel this year's program.
②Receiving the approval from your academic advisor doesn't necessarily mean you will pass the actual admission process.
Please feel free to ask us any questions on this matter.
国際交流センター事務局
International Exchange Center Administration Office
nky_gakusei@nisikyu-u.ac.jp