About the Academy
Principle of Nagahara Academy
The spirit of Asunaro is the basis of our education
After opening under the founding spirit "improving world culture and fostering individuals capable of contributing to human welfare," Nagahara Academy has contributed to society for over 60 years by sending out professionals serving the community with the objective of pursuing "health and well-being." The Health and Welfare Practice Center, and Health, Welfare and Lifelong Study Center at the Saga Campus have accumulated experience through active interaction with people in the community and have established trusting relationships in the community.
Asunaro represents the educational philosophy of Nagahara Academy
Asunaro comes from Asu wa hinoki ni naro, meaning "Tomorrow, I will become a hinoki cypress." Nagahara Academy exerts its fullest efforts to encourage students to believe in themselves to pursue and grasp their dreams with their own strength to the fullest extent of their capacity. The spirit of the founder to diligently exert effort, always look forward and single-mindedly seeking to improve oneself still exists as the founding principle of the university.
School Organization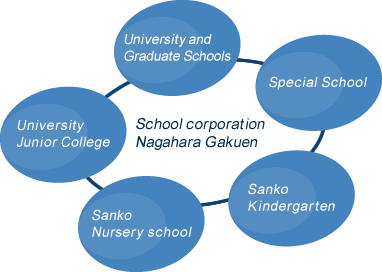 Nagahara Academy Nishikyushu University group has established a comprehensive education network for research in the field of health and welfare. The group consists of nursery school, kindergarten, technical school, junior college and Nishikyushu University, the only 4-year private university in Saga Prefecture. The group fosters individuals with the capacity to take active part in their specialized fields in Japan and overseas.Making use of the group's network, the group has established a unique educational program.Students who have completed the Nishikyushu Junior College program may transfer to the Nishikyushu University.
Students may also take advantage of a double school program, and attend professional school at night to obtain a Chef License while attending the University. There are other programs that support the objectives of each student.
Message from the Director
Wishing that all students feel the joy of study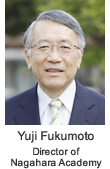 Nagahara Academy was founded in 1946, shortly after the end of WWII. Although the concept of "welfare" had not yet penetrated deeply into Japanese society of those days, Nagahara Academy developed educational programs to reach out to disadvantaged people. Nishikyushu University was founded in 1968, following Nagahara Academy's current to provide curriculum focusing on health and welfare. We have promoted unique education and research, and have developed as the only 4-year private university in Saga Prefecture. Inherited from the time of its original foundation, the spirit of reaching out to disadvantaged people exists in the current faculties and departments.
Modern society seeks individuals capable of thinking for themselves and creating things from nothing. The university, therefore, focuses not on "what we can teach students" but on "fostering students who can think." Through our practical educational program, we endeavor to bring out the learning capacity of each student to the fullest extent. Practice, exercises, interaction with the community and other experiences that we offer will be wonderful textbooks for students. Students may face situations that may cause loss of motivation; but I am confident that you will encounter many moments when you feel the joy of learning. I sincerely wish that you will experience such joy at Nishikyushu University.